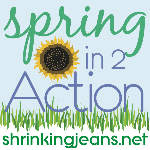 Its time for a new challenge over with the folks of
Shrinking Jeans
! This time around there is both a scale driven and fitness driven component to the challenge, and we are partnered up! I'm lucky enough to have my partner be
Brooke
who has been on vacation (in Maui!!!) and is ready to come back and kill this challenge. We are the Dare Devil Divas, or Triple-D's for short (teehee).
I am sad to say that I am incredibly WEAK! We are doing the 100 Push-Up Challenge, but as of right now I am in complete failure at 6 push-ups. Ask me to leg press something, I'm your girl, but apparently don't ask me to push my own body weight off the floor... Fail. Sad. But it also means I have a lot of room for improvement (silver lining, right?) when I stick to the 3x a week plan for push-ups.
Goals, goals, goals:
Stick to the 100 push-up challenge schedule. I also want to do an ab workout every time I have a push-up workout, both are severely lacking in strength.
Stick to my tri workout schedule. I have a rough monthly schedule written in my day planner, and at the beginning of every week I mentally plan out my workouts. I need to do some double checking with tri plans I have, but I am pretty sure for now I'm right on track with the run and bike, and probably a little behind on the swim.
Make it to the pool a MINIMUM of 2x a week! Which means I've got to hit the pool tomorrow (damn!) along with a run.
Journal my eats 4-5x a week. And not stuff my face just because I'm taking a non-journaling day. Its about balance and moderation. With the amount of activity I'm doing I'll really have to go crazy on those 2-3 days a week I'm not journaling to get myself into trouble. The idea is to avoid that. :)
Scale needs to drop 3-5lbs. I'd really like to look like the athlete I'm starting to feel like. That doesn't mean stick thin, but it does mean lean. I weighed earlier this week - 139.4, and I'd love to break into the low 130s. Again, its all about balance, I'd like to lose a few pounds without risking under-nourishing my body for the workouts I'm doing.
I'm ready to have some fun with this challenge! Week 1 is on!