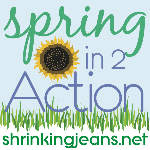 Its check-in day for the Spring in2 Action challenge over at
SJ
! My fellow Dare Devil Diva,
Brooke
, and I had a successful week, and are looking forward to week 2!
Stick to the 100 push-up challenge schedule. I also want to do an ab workout every time I have a push-up workout, both are severely lacking in strength.

I did all three days this week, but only 2 days of abs. This is 2 more days then I had done for weeks prior so I'm not feeling bad about this fact. :)

Stick to my tri workout schedule. I have a rough monthly schedule written in my day planner, and at the beginning of every week I mentally plan out my workouts. I need to do some double checking with tri plans I have, but I am pretty sure for now I'm right on track with the run and bike, and probably a little behind on the swim.

I double checked with my books and with a friends old training plan and I am pretty much right on schedule for all three sports. This week I ended up missing my Tuesday interval run due to my own personal sanity, but I'm making it up tomorrow, so I'm not really considering it "missed." Otherwise I'm keeping up with school, workouts, and for the most part sleep, so I'm feeling super good about everything.

Make it to the pool a MINIMUM of 2x a week! Which means I've got to hit the pool tomorrow (damn!) along with a run.

Though they were back to back days, I made it to the pool twice this week, including one 2700 yd workout! This week I hit the pool today, planning on Friday, and again Monday. On the weeks I can fit in 3 swims (aka not driving around the state all weekend) I should be. This is my weakest sport of the three and since it leads I'd rather not have it leaving me exhausted with 2 sports left to do.

Journal my eats 4-5x a week. And not stuff my face just because I'm taking a non-journaling day. Its about balance and moderation. With the amount of activity I'm doing I'll really have to go crazy on those 2-3 days a week I'm not journaling to get myself into trouble. The idea is to avoid that. :)

I am NOT journaling anymore. My sanity requires it. As soon as I start journaling I get really negative and down on myself. Which hardly seems like the point. I might write down what I'm eating in future weeks without counting calories. Just to keep the mindless eating to a minimum, but this week I need to get away from it all together.

Scale needs to drop 3-5lbs. I'd really like to look like the athlete I'm starting to feel like. That doesn't mean stick thin, but it does mean lean. I weighed earlier this week - 139.4, and I'd love to break into the low 130s. Again, its all about balance, I'd like to lose a few pounds without risking under-nourishing my body for the workouts I'm doing.
Weigh in time!
Last Week: 139.4
This week: 138.6
Lost: .8
I'm happy with this loss, over this 6 week challenge if I had every week like this it would total to a 4.8 lb weight loss which I'd be ecstatic about.
I also increased my single set max on the push-up from 6-10! Progress is good! :)
Goals for this week:
Continue keeping up with my planned workouts.

Wed: AM Swim/PM Trainer Ride
Thurs: AM Interval Run 4-5 miles 5 min work/2 min recovery
Fri: AM Swim/PM Bike Ride, if the weather cooperates this will be outside and glorious. :)
Sat: AM Run Probably 6-7 miles
Sun: Off
Monday: AM Swim/ PM Trainer or Outside bike ride (weather dependent)
Tues: AM Interval Run, repeat of Thursday's workout.
Fruit/Veggie goal of 4-6. My biggest thing is getting in a couple servings of veggies at dinner, I usually am pretty good on the fruit
100 push-up challenge on Mon/Wed/Fri with ab workout included.
Bring on week 2, I'm ready to make this one better (mentally and emotionally) than week 1! :)